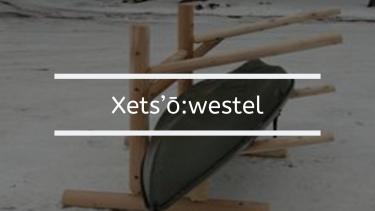 Xets'ō:westel - Time to Put Away Paddles, Canoes and Fishing Gear
The second month is Xets'o:westel which means "time to store away canoe paddles"; xets' means store away (for winter), -o:wes means canoe paddles and tel means a device for doing something, in this case, time.  At this time, around November, the ice and snow is starting to make river travel by canoe hard or impossible, so the Sto:lo store away their canoes by turning them over or putting them in sheds; the paddles are usually stored under the canoe or inside.  The Sto:lo are preparing cottonwood wool, cotton and Salish dog fur to be woven into wool for blankets to prepare for the Winter season.  The leaves have started to fall, signaling that Winter is coming.
Here you will find lesson plans and resources in relation to this month.
1. Metis Road Allowance People_0.pdf
 4. Food Traditions and Security_0.pdf
 5. Acorn Bannock Indigenous Foods_0.pdf