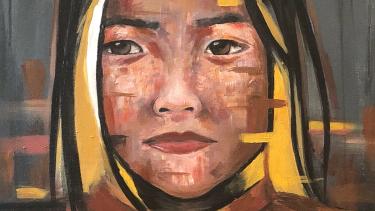 Lex̱éywa Art Activism
A recalling of a residential school experience
Background
The students of Robert Bateman's Art Activism initiative invite you to witness their current work which visually narrates the life story of Bea Silver; a prominent Elder, educator, leader and residential school survivor.
Lex̱éywa - "Torch" calls us to consider the history and impact of residential schools on a national level, as well as on a local scale, as viewers move through the circular exhibition. 20 large-scale paintings paired with audio recordings relay her story chronologically, uncovering an individual experience that speaks to the lasting impact of residential schools, as well as universal truths, struggles and ultimately, the resilience of one exceptionally strong survivor of this history we all share.​
Please note this presentation includes sensitive subject matter that may not be suitable for younger audience. 
Podcasts