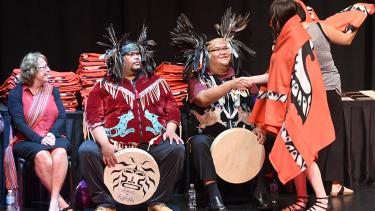 Indigenous Education Consultation Form
Ensuring Indigenous students achieve success
The Abbotsford School District receives additional funds to provide Indigenous enhancement services to all students with Indigenous ancestry. This enhancement service is intended to ensure Indigenous students achieve success in the goal areas of the district's Indigenous Education Enhancement Agreement. The Indigenous Education Enhancement Agreement goals are:
Goal #1 -- Student Success
Indigenous students will be supported to develop their full potential in all aspects of school life. (Grade 12 School Completion, Reading, Trades and Careers)
Goal #2 -- Cultural Identity
Students will learn about their own Indigenous cultural identity and connect with their ancestry in a meaningful way.  When Indigenous students know their identity, who they are and where they have come from, they will develop a positive sense of self and belonging.
Goal #3 -- Equity and Access
Indigenous students thrive in an environment that supports equity and access to all opportunities in schools. 
 
​Parents are asked to complete the Indigenous Education Consultation Form and return to your child's school.