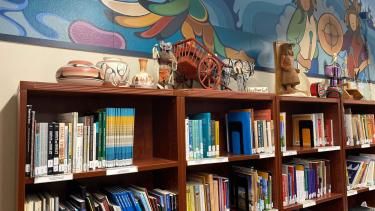 Indigenous Library
Ray & Millie Silver Library
The Ray & Millie Silver Indigenous Library is located at the Community Indigenous Centre (3277 Gladwin Road, Abbotsford B.C.).  Our library features Indigenous books that range from children's literature to adult fiction and non-fiction books.  We also have many Indigenous Literacy kits (see attachments below) and Salish weaving looms you can borrow through our library.  Everyone is welcome to visit our library and borrow books.
At the Indigenous Library, we use a unique classification system that was originally developed by Kahnawake Mohawk librarian, Brian Deer. The system arranges items together in a way that reflects relationships from an Indigenous worldview. The Ray and Millie Silver Library Classification is an adaption of Deer's system and Xwi7wxa Classification from UBC. Our classification system is not universal. Deer said that we all have a unique relationship with knowledge and the way we arrange our information should reflect this special relationship. 
Ray and Millie Silver Library Classification as of June 2023 
If you would like to learn more about our classification please email Loraleigh.Epp@abbyschools.ca.
We encourage you to contact our Library Technician for resources and appointments by email or by calling the Indigenous Centre at 604.859.1224
---
Collections
The Indigenous Department has curated unique collections that can be used to support the infusion of Indigenous content and perspectives into the classroom.