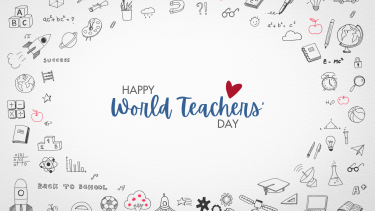 World Teachers' Day: Honouring the Heart of Education
October 5, 2023
Today, on World Teachers' Day, the Abbotsford School District is celebrating and expressing gratitude for the incredible educators who are the heart and soul of our organization. We honour our teachers' unwavering dedication, passion, and commitment to preparing and inspiring our students for a lifetime of success through Respect, Opportunity, and Innovation.
"Our educators consistently go above and beyond to create environments where students can thrive, learn, and grow," said Korky Neufeld, Chair for the Abbotsford Board of Education. "They foster kindness and inclusivity for our diverse world, provide opportunities for students to discover their unique talents and interests, and empower them to pursue their dreams. Our teachers are at the forefront of ensuring our vision of providing a world-class, innovative, and individualized educational experience for each student comes to life."
In a world where knowledge is power, teachers are the guiding lights that illuminate the path to wisdom. They are the individuals who shape the minds of the future, nurturing the potential within each student and helping them reach new heights. The Abbotsford School District recognizes and celebrates the 1,500+ educators and their indispensable role in shaping our community and the lives of our students.
"World Teachers' Day reminds us that teachers are the heart of education," said Sean Nosek, Superintendent of Schools & CEO. "When we see our students excel in our schools and classrooms, our optimism for a brighter tomorrow is clear. The success of our students is directly connected to the unwavering commitment and innovative spirit of our remarkable educators. Today and every day, we celebrate them."
United Nations Organization for Education, Science and Cultural Organization (UNESCO) first declared World Teachers' Day in 1994, and it has since become an annual international celebration of the teaching profession. The day acknowledges achievements in education and gives voice to teachers for their ongoing work in preparing students for a bright and hopeful future.
Thank you, #AbbySchools.