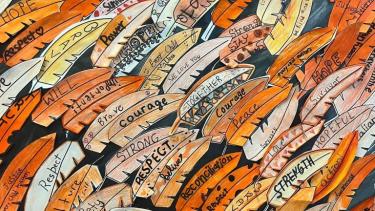 Students and Staff Commit to Truth and Reconciliation
October 4, 2023
Students and staff across the Abbotsford School District united to show their commitment to truth and reconciliation as they actively engaged in educational initiatives and professional learning sessions last week to honour Indigenous peoples. 
Throughout September, teachers collaborated with Indigenous Support Workers (ISWs) and Teachers for Indigenous Success to provide students with valuable learning opportunities and find meaningful ways to honour Indigenous peoples, creating environments of inclusivity and respect. From school assemblies to classroom projects, students built a greater understanding of Canada's shared history and actions they could consider for the future. Examples of learning included grade 12 students at Abbotsford School of Integrated Arts (ASIA) Sumas Mountain Campus who created a 3D art exhibit of metaphors for Truth and Reconciliation. As well, a group of Indigenous students from the school used various Indigenous artists colouring pages to create letters, which were hung in the front foyer of the school and spelled out "Every Child Matters."  
The Abbotsford School District's commitment to Truth and Reconciliation extends beyond students. On September 29th, all employees within the organization engaged in a comprehensive day of professional learning centred on the theme "Walking Forward Together." 
In the morning, all employees assembled at their school or district site to participate in a cultural awareness training supported by the Indigenous Education Council. Knowledge Keeper and Cultural Advisor, Dr. Gwendolyn Point, Semá:th First Nation, Mathxwí First Nation, and the Fraser Valley Métis Association shared words from their heart and messages of hope as they guided the district through Éy kw'as émí – The Welcome Project.  
On Saturday, September 30th, local community partners, including the Abbotsford School District, held a commemorative event in Civic Plaza/Thunderbird Square to honour the National Day for Truth and Reconciliation. Stetis imexstowx - Walk Beside Us included story presentations, craft activities and live presentations. Abbotsford School District events included: 
Lexéywa Art Activism Artwork & Stories presented by Indigenous Education. Lexéywa Art Activism invites you to hear Beatrice Silver's personal story about residential school while viewing students' artwork that was created to help show this powerful story.  

Youth Reconciliation Discussion Panel presented by Abbotsford Senior Secondary, Yale Secondary & UFV Center for Peace and Reconciliation. Participants were invited to hear what our youth have to say about reconciliation and what we can consider as we move forward together in a way that inspires and empowers others to participate in the "walk beside us" journey toward reconciliation.  

Art & Justice Exhibition presented by Abbotsford Senior Secondary. Participants could view the temporary exhibition collaboratively created by students in the 2023 Abby Senior Art Activism class and citizens incarcerated in a federal institution in the Fraser Valley. This collaborative painting project investigates the colonial values embedded in Canadian criminal laws, policies, and practices, focusing on their negative impacts on Indigenous Peoples. The resulting paintings are an act of healing, learning, and reconciliation for both the students and incarcerated artists. 

Luminous Waters presented by The Reach Gallery Museum. A hauntingly beautiful performance inspired by the award-winning children's book Semá:th Xó̱ :tsa: Sts'ólemeqwelh Sxó̱ :tsa/Great Gramma's Lake. Professional puppeteer Tamara Unroe and students from Abbotsford School of Integrated Arts (ASIA) - Sumas Mountain brought giant illuminated puppets to life, recalling the memory of Sumas Lake as it would have been before it was drained. 
Reconciliation is not a destination but a process. It is about building bridges, forging connections, and providing space for healing. As a public education institution, the Abbotsford School District accepts responsibility to contribute toward revealing and correcting miseducation as well as renewing respectful relationships with Indigenous communities through teaching and community engagement.