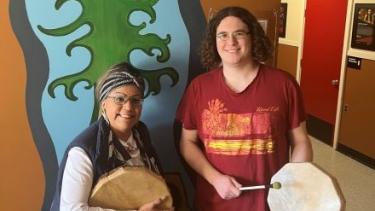 Spring Break Camp – Getting It Done!
March 23, 2023
This Spring Break at Mamele'awt, the Indigenous Education team opened their doors to support 30 students in grades 10-12 in one of three programs: Foods 12, Active Living 12 and Independent Completion Plans in various academic courses. We were honoured to have two Elders work with us throughout the program. Opening each day with the opportunity to smudge if wanted and an opening circle, sharing teachings and a song to focus mind, body and heart. The students then moved to their program. The Foods class learned about and prepared meals to share with our group and their families. The Active Living group often ventured out to participate in community field trips at the MRC, a spin class, hiking, powwow dancing, rock climbing, bowling and daily hoops just for fun! We were also super proud of the students that committed to coming to the program daily to complete courses in various academics with support and encouragement from volunteers and Indigenous Support Workers. Our Teacher for Indigenous Success kept our minds learning! Our Elders reminded us daily to work with a good heart and a good mind. The students shared their enthusiasm and energy. We are grateful for the volunteers who assisted with math tutoring, cooking demonstrations and cultural dances. We are grateful to Constable Neil Cole from APD for spending time supporting our students and to our dedicated ISWs for working during their spring break.
This experience reminded me of the First Peoples Principle of Learning. "Learning is holistic, reflexive, reflective, experiential, and relational."  Students, Elders and adults all engaged in this experience together like a family, generously giving their time and energy in a way that built one another up. 
DARLENE MACDONALD, DISTRICT PRINCIPAL
Indigenous Education