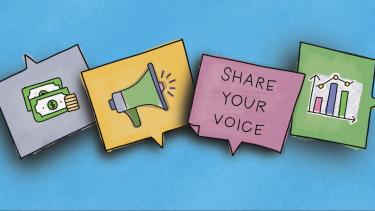 School District launches public consultation for 2023-24 Strategic Plan and Budget cycle
March 30, 2023
In accordance with the School Act, the Abbotsford Board of Education must approve a balanced budget by June 30th each year. The Abbotsford School District is currently preparing its budget for the 2023-24 school year and is inviting employees, families and community members to share their voice in the consultation process. 
"Our strategic plan serves as the framework for determining the initiatives and projects we want to invest in to provide new and exciting opportunities for our students and staff," said Korky Neufeld, Chair for the Abbotsford Board of Education. "An important step to ensuring we are on the right track is by providing engaging opportunities for our entire school district community to participate in this process and share their voice." 
On March 2nd, the Abbotsford School District held it's first public budget meeting to review its spending plans for the 2023-2024 school year. Secretary-Treasurer Ray Velestuk presented budget information to parents and community members and announced the consultation opportunities set to take place over the coming months. A second public budget meeting is scheduled for May 4, 2023 at the School Board Office, and available via Microsoft Teams. 
The school district's budget is based on the following guiding principles: 
Maximize the allocation of resources to support the goals & priorities in the Strategic Plan. 

Commit to building a strong understanding of budget information through ongoing communications. 
Maintain a three-year budget plan to ensure funding sources can support program initiatives. 

Maintain surplus/reserve balances to respond to emergent needs. 

Maintain strong fiscal management policies. 
Share Your Voice! 
Engagement Portal: Strategic Plan and Budget Consultation
We're looking for feedback on how to enhance and support funding under our four strategic plan pillars - Student Success, Optimized resources, Engaging Opportunities, Progressive Workforce. The public can join the discussion online, where you can post an idea, ask a question, see our budgeting consultation timeline, and learn more about how we are spending money in our school district to ensure every student is successful.