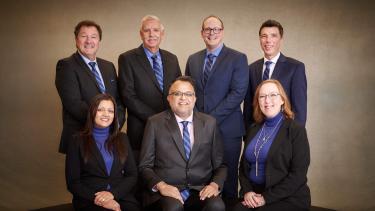 New Board of Education Sworn In For 2022-26 Term (PHOTOS)
November 16, 2022
It was a full house at the official inauguration of the newly elected Abbotsford Board of Education on Tuesday night, as seven trustees were sworn in and affirmed for the new term. Three new trustees - Rupi Kanda-Rajwan, Mike Rauch and Jared White - join incumbents Korky Neufeld, Stan Petersen, Preet Rai and Shirley Wilson. The Abbotsford Board of Education will serve from 2022 to 2026.
In addition to last night's inauguration, a Chair and Vice-Chair were nominated by the group of seven. Korky Neufeld, a Trustee since 2018 and who has previously served on the Board of Education from 2005 to 2014, was voted in by acclamation as Board Chair. This will be his first term serving as Board Chair. Additionally, newly elected Trustee Mike Rauch was voted in by acclamation as Vice-Chair for the Abbotsford Board of Education.
"I'm energized by the new additions to our Board of Education, and we look forward to serving our community and school district. We are all very passionate about education and recognize the important role it plays for the future of the youth here in the city of Abbotsford," said Neufeld. "We have a high-functioning school district – excellent teachers, support staff and leaders. We will continue to build on the strengths that everyone in our large organization exhibits, remembering the site lines of our strategic plan as we all work towards the goal of student success." 
Tuesday's ceremony included a territorial welcome and song by Ronald Francis-Modeste of Mathxwí First Nation. Ardaas Sukdev Singh from Khalsa Diwan Society Abbotsford and Pastor Mitch Borrows from Hill City Church brought blessings to the event. Students from Irene Kelleher Totí:ltawtxw's Choir, led by Amanda Schoepp, performed "A Wish for Peace" and also led the room through the singing of O Canada.
Superintendent Dr. Kevin Godden served as MC and briefly spoke about the critical role Trustees play in the Abbotsford School District. He noted the community voice they bring to public education, overseeing the needs of schools and students and guiding the work of the school district's strategic plan and annual budget.
The first regular meeting of the Abbotsford Board of Education will occur on November 22, 2022, at 7:00 pm at the School Board Office. The meeting will also be available to be watched via livestream through the district's YouTube channel.
Image: Back Row [L-R] Korky Neufeld, Stan Petersen, Jared White, Mike Rauch | Front Row [L-R]: Rupi Kanda-Rajwan, Preet Rai, Shirley Wilson