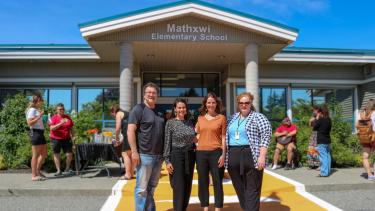 Mathxwí Elementary celebrates orange and eagle feathered crosswalk
May 23, 2023
Mathxwí Elementary marked a significant milestone this month as they officially opened their new orange and eagle feathered crosswalk, the first in the Abbotsford School District. The event was attended by members from the school community, Mathxwí First Nation, the president of the Fraser Valley Métis Association, the Abbotsford Board of Education, and school district staff.
The flagship crosswalk that leads directly to the school's front door features seven white eagle feathers painted on an orange background. Each feather represents a sacred teaching recognized by many Indigenous communities across Canada - truth, honesty, love, humility, respect, courage, and wisdom. The celebration commenced with three students, who had received teachings from Indigenous Knowledge Keeper, Darren Charlie, sharing these historical and cultural significances with the audience.
Chief Alice McKay of Mathxwí First Nation, Board Chair Korky Neufeld, and Assistant Superintendent Perry Smith, all emphasized the significance of the crosswalk in showcasing Indigenous culture within the school. They highlighted how this initiative creates inclusive and inviting spaces for everyone and recognized that events like this are stepping stones toward a more equitable and harmonious future.
"Our school district has been on a journey of learning more about Indigenous culture and embracing our commitment to Truth and Reconciliation," said Korky Neufeld, Chair for the Abbotsford Board of Education. "Infusing visual elements like this throughout our schools is one meaningful way we can work together to honour Indigenous cultures, build empathy and respect for diversity, and promote a brighter future for all. We are so proud of the students and staff here. Thank you for leading the way in making our schools a place where everyone from our learning communities feels valued, respected and like they belong."
The celebratory atmosphere was set by a class at Mathxwí Elementary, who performed the Temxaxa sth'oqwi, the sacred salmon time song, under the guidance of Ms. Carlin Swift. The event continued with a crosswalk procession led by Tyrone Thomas and Ronald Francis-Modeste, guiding the guests and students outside for the official ribbon-cutting ceremony. Chief Alice McKay, Haley Cole, Assistant Superintendent Perry Smith, and a student from Mathxwí First Nation had the honour of cutting the ribbon, officially inaugurating the crosswalk for students and families of the school community and concluding the ceremony.
---
MEDIA CONTACT
Kayla Stuckart | Manager, Communications
Ph: (604) 614-5207 | kayla.stuckart@abbyschools.ca