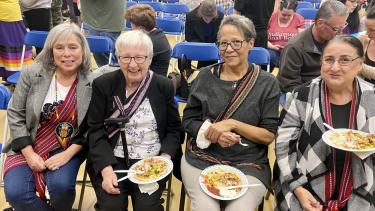 Indigenous Education department brings families together for first gathering since 2019
November 24, 2022
Over 300 families met at the Mamele'awt Indigenous Education Centre on October 12th to gather as a community and honour Indigenous culture. Family Gatherings are hosted throughout the year by the Indigenous Education Department and serve as an evening for many Indigenous families across the school district to enjoy a meal with a loved one.
"After years of being on hold, we were able to host our first Family Gathering since 2019 and it was wonderful to see so many friends and families coming together to enjoy each other's company," said Allison Gardner, District Vice Principal of Indigenous Education for the Abbotsford School District. "Watching people take care of each other by sharing joy, conversation, and laughter was such a special experience. I saw newborn babies being snuggled and loved, friends laughing together, youth carrying food for Elders, and outside community partnerships connecting and supporting families. All this reminded me that it is a gift to come together, connect, and share with our community."
Stó:lō Catering was on hand to provide meals for all in attendance. The clothing room was open for attendees to peruse and take any items that may be needed. Over 150 food hampers were gifted to each family attending to bring back home. Several tables were also set up to provide program information, support, and family resources within the community. There were organizations such as United Way, Métis Families Services, Archway Services, The Foundry, Literacy Matters, First Nations Health Authority, Canada Revenue Agency, Industry Training Authority, Services Canada, the Abbotsford School District Careers and Early Learning Team, the Affordability Fund Manager and Fraser Health Indigenous Team, including an onsite flu clinic for attendees to have convenient access to receive their flu vaccine.
The last Family Gathering was abruptly switched from an in-person gathering to a drive-through back in March 2020 due to the global pandemic and the events were then put on hold until further notice.
"Relationships and connection are rooted in Indigenous culture," noted Darlene MacDonald, District Principal of Indigenous Education. "As a school district, we've made a commitment to strengthening and celebrating cultural identity within our organization and providing meaningful opportunities and events like this help us work towards that purpose."
The next Family Gathering is set to take place on November 30, 2022, at the WJ Mouat Secondary Small Gym with our co-hosts, the Fraser Valley Métis Association for all Indigenous families throughout the Abbotsford School District.