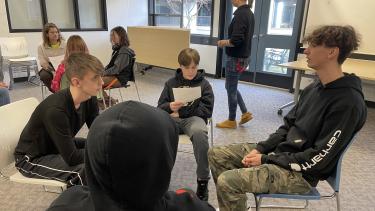 Hawk Cousins Mentorship Program forges relationships and connections between students
May 18, 2023
W.J. Mouat Secondary School, Chief Dan George Middle School, and Colleen & Gordie Howe Middle School are proud to announce the success of their mentorship program for Indigenous grade 8 students – Hawk Cousins. Launched in February 2023, this progressive program not only aims to facilitate a smooth transition to high school but also emphasizes that valuable role of mentorship in empowering students and creating connections.
As the program commenced mid-way through the 2022-23 school year, enthusiastic student leaders from W.J. Mouat began visiting the two middle schools to participate in engaging icebreakers, Halq'eméylem Bingo, and discussions on hot high school topics. Providing a space for mentorship to blossom, these activities fostered connections and friendships among the students, while also addressing any apprehensions or concerns middle schoolers may have felt about the upcoming move to secondary school.
The second phase of the mentorship program involved middle school students then visiting W.J. Mouat for a personalized tour of their future building. During this visit, the students engaged in a lively game of Slahal, an Indigenous guessing game that dates back generations, where they learned more of the historical teachings of how the game was played for fun, to settle an argument, or prevent conflict between two Nations. More importantly, this second visit provided an opportunity for the mentors to embrace their responsibility with dedication and compassion, proving to be beacons of guidance for their younger counterparts. Continuing to build upon its achievements, the mentorship program has additional visits scheduled throughout the remainder of the school year.
"We are thrilled to see the success of this mentorship program," said Melanie Trudeau, Vice-Principal of Chief Dan George Middle school. "Hawk Cousins is a prime example of a program that develops a new generation of leaders, helping younger students soar. It is essential to support our Indigenous students during their transition to high school and provide them with the necessary tools needed to succeed."
The Hawk Cousins initiative stands as a powerful testament to the Abbotsford School District's unwavering commitment to the Enhancement Agreement, where Indigenous students are being supported in multiple ways to develop their full potential in all aspects of school life. By fostering mentorship and emphasizing the value of connections, the program not only ensures a successful transition but also cultivates lifelong skills and relationships that will positively impact the students' academic and personal journeys.
---
MEDIA CONTACT
Kayla Stuckart | Manager, Communications
Ph: (604) 614-5207 | kayla.stuckart@abbyschools.ca