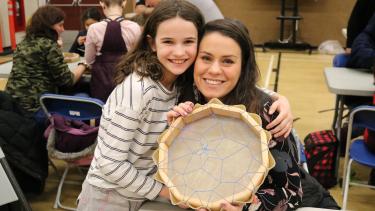 Grade 5 Indigenous Students Celebrate Transition to Middle School
March 24, 2023
Grade 5 Indigenous students across the district came together for drum making workshops as a way of connecting with other students from their family of schools, as they prepare for their transition to middle school next year.
The drum-making workshops led by Knowledge Keeper Darren Charlie from Sts'ailes First Nation taught students the traditional techniques of creating a drum, including stretching and fastening the hide, and constructing the drum frame using traditional materials. Through this activity, students not only learned about their culture but also gained practical skills that they can use in their everyday lives.
"By providing our Indigenous students with this opportunity to learn about their culture and build new friendships as they take on this next chapter of middle school, we hope they will also be inspired to find their voice and connect with who they are and where they come from as an Indigenous person," said Darlene MacDonald, District Principal of Indigenous Education.
This is the second year the Mámele'awt Indigenous Education Centre has hosted the drum-making workshops. The workshops provide students with a sense of connection to their culture and a chance for students to connect with their peers prior to the start of a new school year at the middle level.
The Indigenous Education Department plans to continue this tradition in the coming years, as they believe that activities like this help preserve Indigenous culture and provide a positive and engaging learning experience for Indigenous students.