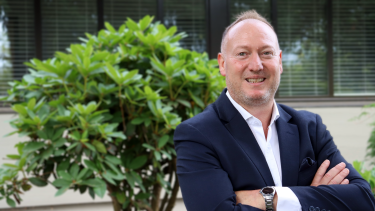 Back to School: A Message from Superintendent Nosek
September 1, 2023
Dear Abbotsford School District families,
It is with great pleasure and enthusiasm that I write my first letter to you as your new Superintendent. I am honoured to step into the role of Superintendent of Schools/CEO for such a vibrant school district and community, and I am truly excited for the road ahead.
I have spent more than 25 years working in public education, and I believe that the work we do in schools is vital to our success as individuals and as a society. I am born and raised in the lower mainland, and fortunate to be happily married and the proud father of two daughters. I enjoy an active lifestyle and find great joy in the outdoors.
While I am busy familiarizing myself with the operations of the school district, I am also thoroughly appreciating learning about the community, exploring the area, and meeting new people.
The Abbotsford School District has an incredible reputation across the province for being a world-class, innovative district with a strong academic focus, and a supportive and diverse community. Even with the district's many strengths, this leadership transition presents an opportunity for positive change and for the district to grow and thrive even more in the coming years.
Earlier this month, I recorded a short video so you can learn a little bit more about me, my experience, and my hopes for the future. I hope you give it a watch.
Video: Meet the New Superintendent
2023/24 School Year
Like many of our Kindergarteners, new students and new staff who recently joined the team, I will be walking into our schools and hallways for the first time this year. I can't wait to see the learning in action and witness firsthand the transformative power of education.
A reminder that the first day of school for students will be Tuesday, September 5th. Bell times may vary, so please check your child's school website for start-time details. If you're on social, connect with us! We leverage the power of social media to share captivating photos, videos and key information about our #AbbySchools. We're on Instagram, Facebook, YouTube, LinkedIn, X (formerly Twitter).
Open, transparent and proactive communication within our school district community is essential for creating engaging opportunities within the system. You can therefore expect to hear from the Board of Education and myself regularly throughout the year via platforms like monthly public meetings of the Board, Superintendent blog posts, consultations and engagements, letters and more.
→ Board of Education Meetings
→ 2023/24 School Calendar
It is an exciting time for the Abbotsford School District, and I'm looking forward to the year ahead. Enjoy the last few days of summer!
Sincerely,
Sean Nosek
Superintendent of Schools/CEO