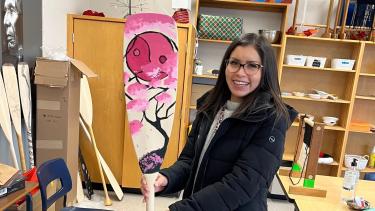 Pulling Together - Grade 8 Journey to Secondary School
April 28, 2023
Ashley Lamson, ISW at ASIA Sumas and member of Semá:th First Nation, has generations of knowledge to share with her students about the significance of canoe pulling in the Indigenous community.  Much of this heritage was taken with the draining of Sumas Lake, but canoeing has been revitalized in the last generations as an important connection to land, water and culture. Ashley is from the Silver family, and her mom, nephew, and uncle share some of these important lessons in this video. 
All grade 8 students are embarking on an important educational transition this spring with their last term in middle school. Students are engaging in special activities to support them in making this transition successful. With guidance from the Indigenous Education Council, the Indigenous department collaborated with middle school teams to establish the Paddle Project. It was piloted in 2021 and was fully implemented in 2022, and the tradition will continue this year and beyond.
Indigenous students in grade 8 learn about Indigenous art forms, create a paddle design and create their own personal paddle to use on a canoe trip. ISWs have also been presenting the Paddle cultural presentation to all grade 8 students to learn about the importance of canoeing in our local Indigenous culture and the significance of working as a team in a canoe and 'pulling' together. We ask students to consider, "Who is in your canoe, and who do you need in your canoe as you embark on this important journey and your next step toward graduation?"  This year we are excited to head out to Harrison Lake and River and to work with knowledge keeper Darren Charlie and members of the Sts'ailis First Nation to be on the water on four different days in May. Our hope is that 100% of our grade 8 Indigenous students engage in this special transition activity!
Also, a shout out to Derek Taylor, Painting Foreman, for his support with varnishing our paddles this year!
For more information about the Grade 8 Paddle Project
To view the video of the Canoe Trip in 2022
DARLENE MACDONALD, DISTRICT PRINCIPAL
Indigenous Education