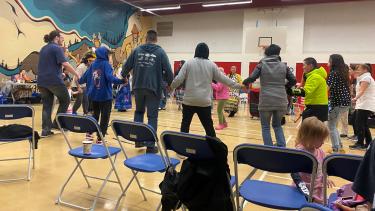 Powwow and Cultural Night at Mamele'awt
March 8, 2023
The Indigenous Department has been honoured to work with our community partners at VYPER, Xyolhemeylh and the Fraser Valley Metis Association to sponsor a Powwow and Cultural Night each Thursday. VYPER - Visionary Youth Peers for Equity and Revitalization is a youth-governed group for urbanized and non-urbanized Indigenous youth in BC who are based out of the Matsqui-Abbotsford Impact Society.  They are a diverse team of youth who look to foster the revitalization and adaptation of Indigenous culture for all First Peoples.  The Abbotsford School District provides the space here at Mamele'awt and staff to support the event, along with a delicious meal for families to enjoy from our Affordability Program. 
Everyone is welcome at the Powwow Cultural Nights on Thursdays from 5-8 pm. Marcella Sunshine was one of our School District role models in 2019 and is one of the founders of this initiative and MCs the event. Along with dinner service, the clothing room is also open, and families often return donations for others to use. Our clothing room is more of a clothing exchange and sharing program.  Another wonderful part of the evening is the Xyolhemeylh Youth Team, who support youth who want to make their own ribbon skirt. They provide sewing machines, materials, and mentors to support youth and adults looking to create a piece of regalia. 
Allison Gardner, Vice Principal of the Indigenous Education Department, attends each week and has observed beautiful connections between the youth and their families with culture. 
"The powwow nights are a beautiful way for families to learn about and reclaim their Indigenous culture. I have witnessed families that have felt disconnected from their culture due to displacement that are reconnecting to their identity and family traditions. The sound of the drums, the movement of the dance and the teachings that are shared by the MC bring people together. I love that this is a family event where multiple generations attend with babies, littles, teens, parents, and Elders, whom all come together to share in the drumming, singing and dancing."
This endeavour reminds me of the First Peoples Principle of Learning, that Learning requires the exploration of one's identity. We are striving to move away from the colonial legacy that oppressed cultural celebrations and recognizes that there are diverse First Peoples represented in our school district. The powwow nights offer one way for our Indigenous youth to learn about and connect meaningfully to their roots and develop a stronger sense of self. Creating safe opportunities for learners to articulate and express their developing identities (providing safe learning environments that allow mistakes to be made and conversations to happen) supports the exploration of one's cultural identity.
DARLENE MACDONALD, DISTRICT PRINCIPAL
Indigenous Education