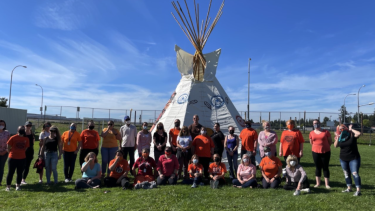 Knowing, Learning and Leading
October 26, 2021
Even though Canada recently observed the first National Day of Truth and Reconciliation, Abbotsford School of Integrated Arts (ASIA) North Poplar campus began their journey of Truth and Reconciliation years ago by listening, collaborating, and acting. I, myself - Wenonah Justin (she/her) from the Pukaist community, a member of Cook's Ferry of the Nlaka'pamux Nation, and Cree ancestry - am one of the Indigenous Support Workers at the school that guides all that come across my path with Indigenous knowledge.
Takemshooknooqua - we are all connected to the seen and unseen. This is a Nlaka'pamux Grandmother teaching from my Aunt Tiila Dr. Anderson (2011). Living this teaching every day, I've been able to build connections with Administration, staff, and students, so as a team, we could create a meaningful month during the first National Day of Truth and Reconciliation.
Working closely with the Library Learning Commons instructor Nelly Fargeon (she/her), we co-presented to all classes for two weeks on the origin of Orange Shirt Day and mailed 215 student drawings to Ottawa about the Indian Residential School systems. We also answered the invitation from Tk'emlúps te Secwépemc to learn the Secwépemc Honour song, so our students could drum and sing for the missing children of Indian Residential School on September 30. Finally, all students K-5 beaded either Orange Shirts or orange bracelets that can be worn year-round to help us remember that these are still ongoing issues and that children are still being recovered daily.
As a staff on the September 24 professional development day - led by the Indigenous Ally Committee, Vanessa Fleury of Metis from Saskatchewan, Heather Nairn from Nuxalk Nation, Nelly Fargeon and me - we used Dr. Archibald's Indigenous story work (ISW) as a framework for the day (2008). ISW connects Indigenous ways of knowing and leading. ISW teachings include remaining connected to the land, each other, self and provides a reflective process for self-discovery. I and other Indigenous educators, including Rose Greene from Stó:lō, and Heather Narin shared some of their knowledge and provided experiential learning outside on our school grounds. We invited all staff to raise a teepee, bead orange shirts, feast, smudge, have a sharing circle and closed with the Secwepemc Honour song. There were three opportunities for participants to self-reflect on their learning discovery and story.
The importance of the sharing circle is to facilitate a reflective process for self-discovery. This process requires time to connect, listen and share. Before we can move forward as a team, we needed to create time and space to listen, share and reflect. We need to experience a connection to Truth and Reconciliation before any change can occur. 
We encourage everyone to start with what they have because that is enough. The importance is to start on this journey of Truth and Reconciliation, so we can honour and remember the 150,000 children and their families taken to the Indian Residential School System. We witnessed the staff connect, reflect and commit to action by giving them time and a safe space to do so. 
WENONAH JUSTIN
Indigenous Support Worker
---